Health insurance for humans is one of those things we simply accept as a fact of daily life. But did you know that pet insurance is gaining in popularity as a pragmatic way to deal with both routine and unexpected veterinary expenses?
One reason we recommend pet parents look into insuring their pets is the fact that we've seen how insurance can often clarify and simplify what can turn out to be life-and-death decisions. If a pet is ailing and the cure likely to be extremely costly, insurance can prompt pet owners to opt in for a life-saving procedure because they know the expense will be either lessened or reimbursed entirely. So both pets and their humans stand to benefit greatly from such plans.
Like health insurance for people, pet policies have different deductibles, co-payments, and premiums. You should also be aware that with most policies, the pet owner must pay the vet bills in full, file a claim, and then wait for reimbursement from the insurance company.
Here are a few questions to ask a potential insurer before committing to a plan: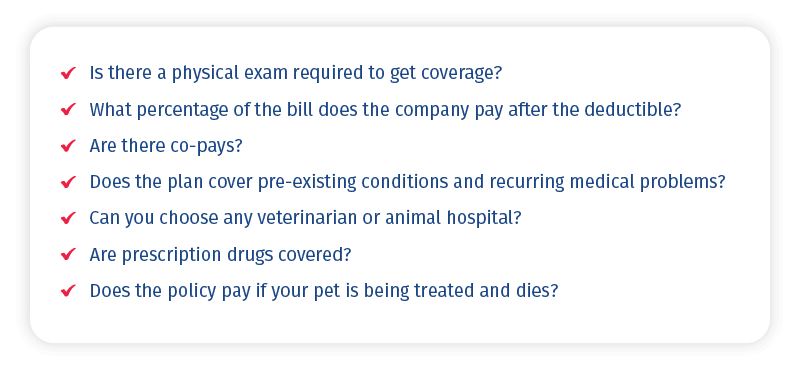 As you might imagine, there's a wealth of companies wading into this growth market and each insurance package has something unique to offer. In particular, we highly recommend the plans from Pets Best, Embrace Pet Insurance, and Nationwide.
Here's a quick snapshot of each plan's basic benefits: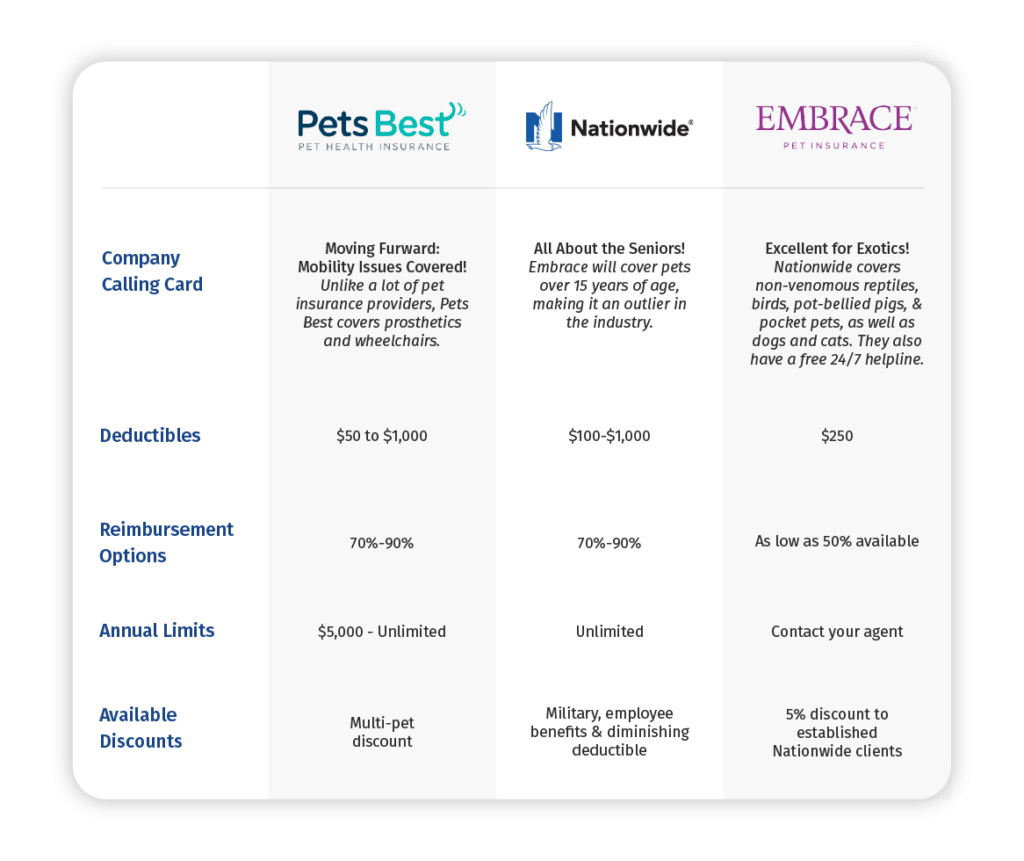 Pets Best
Company Calling Card: Moving Furward: Mobility Issues Covered!
Unlike a lot of pet insurance providers, Pets Best covers prosthetics and wheelchairs.
Deductibles: $50 to $1,000
Reimbursement Options: 70%-90%
Annual Limits: $5,000-unlimited
Available Discounts: Multi-pet discount
Embrace
Company Calling Card: All About the Seniors!
Embrace will cover pets over 15 years of age, making it an outlier in the industry.
Deductibles: $100-$1,000
Reimbursement Options: 70%-90%
Annual Limits: Unlimited
Available Discounts: Military, employee benefits & diminishing deductible
Nationwide
Company Calling Card: Excellent for Exotics!
Nationwide covers non-venomous reptiles, birds, pot-bellied pigs, and pocket pets, as well as dogs and cats. They also have a free 24/7 helpline.
Deductibles: $250
Reimbursement Options: As low as 50% available
Annual Limits: Contact your agent
Available Discounts: 5% discount to established Nationwide clients
Want more information? Give us a call at (205) 709-8286 today. We'd be more than happy to discuss the pros and cons of possible plans and help you find the right one for you and your furry family!