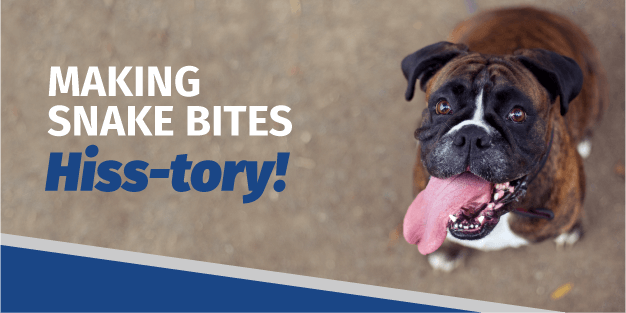 If you're like a lot of pet parents we know, you're taking your best friend for as many walks as you can right now. That's great for everyone involved, but it's always a good idea to remain on alert for snakes basking in the sun, even if your regular route is primarily paved. Snakes aren't confined to rural or wooded areas —they can be found in cities, suburban parks, and riverside areas.
Snake venom is extremely dangerous as it causes excessive swelling and death of the tissue surrounding the wound. To decrease the risk of your pet being bitten, it's a good idea to stick to well-used trails, keep your dog leashed, and don't hike alone. It's also important not to let your dog sniff or step where you can't see, such as around rocks, brushy areas, and downed logs.
Bites should always be treated as soon as possible. If you suspect your pet is the victim of a snake bite, bring them in to see us immediately. Should the bite happen outside our regular business hours, take your pet to a 24-hour emergency veterinary hospital without delay.