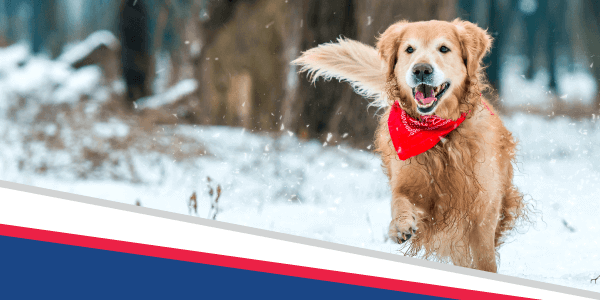 The winter holidays are a joy for us humans, but our parties, decorations, and festive foods can pose serious risks for our pets. There are several safeguards you can put in place to keep your pets happy and healthy this season, including skipping the tinsel, particularly if you have cats – they're attracted to shiny objects, but tinsel wreaks havoc on their digestive systems – and putting boozy beverages out of reach. (You might have worked up quite a tolerance over time, but it doesn't take much for small animals to get alcohol poisoning, which can cause serious health complications.)
You'll also want to keep your pets away from holly, mistletoe, poinsettias, and lilies, all of which are toxic to animals. Speaking of ordinary household poisons, chocolate, raisins, grapes, onions, currants, macadamia nuts, and walnuts are all on the naughty list for pets, as these foods can make them seriously ill. Also, beware of xylitol – an artificial sweetener found in chewing gum, candy and peanut butter – which can cause illness and even death.
Don't forget, too, to secure your tree to a doorway or strong drapery pole with fishing line to keep it from falling over if your dog bumps it or your cat tries to climb it. You might even want to put your pet in another room with toys and a bed when having a party or large gathering. This way your dog, and especially your cat, will be less stressed.
A few more items to consider: The weather is getting colder, so make sure all outside pets have adequate shelter and clean – and unfrozen – water to drink. But don't let the frosty ground fool you: you'll still want to keep your pets up-to-date on flea and tick preventatives. And watch your pets around roadkill and deer carcasses. Consuming carcass meat can cause gastrointestinal upset.
And finally, a note about New Year's Eve. December 31st is second only to Fourth of July in fireworks use. There are several things you can do to help your pet weather the racket. You can turn on soothing music to dull the noise or try distracting your dog with games and toys. If these options don't prove helpful, your pet might require some light sedatives to help them cope with the din both outside and in.
Call us at 205-486-4500 today if you have questions about holiday pet safety or should you need to order some anti-anxiety meds for your Fido or Fluffy.