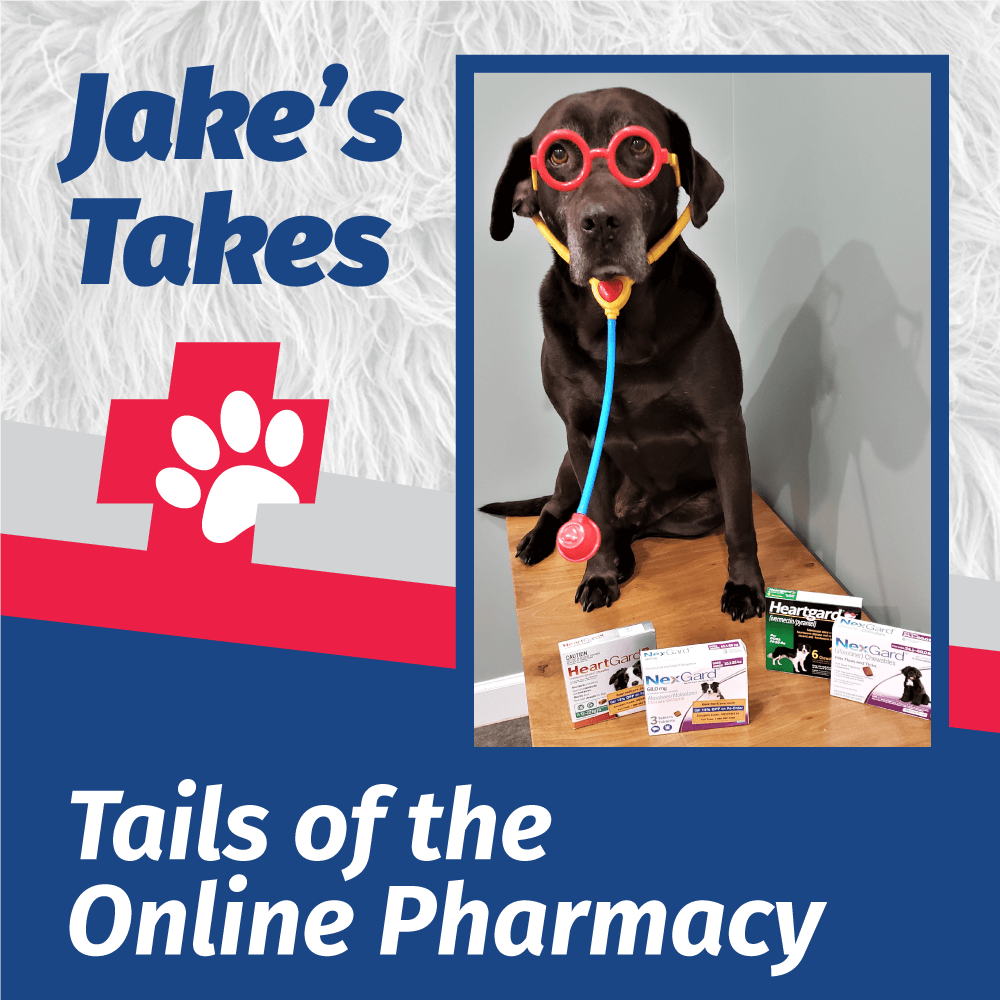 If you like ordering pet medications and prescription food from those online pet supply retailers like Chewy.com and 1-800-Pet-Meds, I'm here to tell ya, that could be a mastiff-sized mistake!
See the products sitting on either side of me in the picture?
They look exactly alike, and all the packaging says they are. But nope—it was confirmed by the manufacturer that the product on my left has NO ACTIVE INGREDIENT. You know, the stuff that makes it work? Bad dog!
This happens more often than you might think. Products aren't handled like the manufacturer wants them to be, or they are re-packaged, and that can be dangerous for your pet. The people who make most flea and tick preventative medications specify that their products only be sold directly by veterinarians. They do this so the product can be tracked from the manufacturing facility to the warehouse, through shipping and right to our hospital—guaranteeing quality and effectiveness.
When sold directly to a veterinary hospital, manufacturers can also offer a product guarantee that will pay 100% of the diagnosis and necessary treatment of adverse reactions or product defects. In fact, this very thing happened to a pal of mine who came down with heartworm, even though he'd been on heartworm preventive for years. Because my mom (Dr. Bell) had complete records of all the purchases, the heartworm preventive company paid for the diagnosis and treatment of the heartworm! (By the way, my pal is doin' great and is back harassing squirrels in the backyard.)
So now you see why we're so doggone concerned about the safety and authenticity of products from online pet supply retailers! Instead, we recommend that you get your pet's medications right from our hospital, where you know you've got the real thing and the guarantees are intact. We want to make sure you always know what's what and that you can trust us to give you the straight scoop about your pet's health.
Speaking of scoop….I think it's about time for a walk. Bark at ya later!
-Jake
Jake is the canine companion of Dr. Bell, and because he spends his days sniffing around for stray treats at a vet hospital, he's managed to learn quite a bit. In fact, he's so smart that Dr. Bell figured it was time he earned his keep (and couch time) by passing along some of that knowledge.
You can catch more of Jake's Takes on the Bell Veterinary Hospital blog.