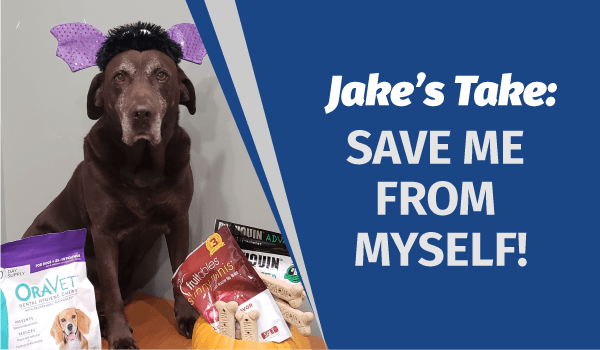 Dr. Bell will be the first to tell you that I love food. I admit it—I'm a food-a-holic. With fall barbecues in full swing – not to mention my favorite howliday, Halloween – I'm having a hard time taking my usual third nap of the day. I'm just too excited to sleep.
But here's the thing – cookouts and costume parties aren't necessarily so great for your four-legged family members. We sometimes get into things we shouldn't and end up at the ER getting our stomachs pumped. (I'm obviously writing about a friend here. I would never do such a thing.)
Thinking of hosting a small, outdoor tailgate party in the future? Or even a Halloween get together? Read on for a few tips that will ensure your best bud stays out of trouble – and out of Dr. Bell's office.
To begin, barbecues. Grilled meat. That smell, so delectable, so tantalizing, the plump flesh done to a turn, stomach growling, jowls drooling…where was I? Oh, yeah. Safety.
Remember these fast facts:
Cooked meat bones can splinter and become hazardous if swallowed, causing airway or intestinal blockage. Make sure your guests know not to give them to your pets.
Corn cobs are a cook-out staple—but don't give those cobs to the dogs like me! Many dogs don't shred the cobs when the eat them, and instead, swallow large pieces whole.
Got a grease-trapper on your grill? Make sure it is removed promptly after cooking. Many pets find these drippings irresistible and if they consume them, could wind up with severe stomach upset or pancreatitis, which can be a very serious or even deadly condition in some pets.
As much as I hate to be a kill joy, booze is a barbeque no-no for pets. Alcohol can dangerously intoxicate your pet and could result in coma or in severe cases, respiratory failure. Yes, this includes beer—fermented hops and ethanol are poisonous to both dogs and cats.
Now that I've covered backyard BBQ safety, let's move on to Halloween – ghosts, ghouls, and gum, oh my. Yeah, gum. Don't let your furry family near any chewing gum ever. The sweetener xylitol can be very toxic to dogs and cats. And chocolate is another big no-no. No matter how much I beg, don't let my paws near the candy bowl.
Other things to consider:
Putting your pet in costume? First, don't embarrass them. I've seen too many humiliated pugs over the years. Let's keep it dignified, okay? And make sure your pet feels comfortable in the costume before taking them out. If the costume has bells, noise makers or strings, they can scare your pet or pose a choking hazard.
Keep us indoors on Halloween night! This is especially important for black cats who are often targeted during the holiday. Also, make sure your best buds are microchipped or have a collar with current identification in case they get scared and run off.
I think that about covers it, but if you have any questions about pet party safety, don't hesitate to give the human team at Bell Veterinary Hospital a quick call at (205) 494-7113.
Tail wags and elbow bumps,
Jake
---
Jake is the canine companion of Dr. Bell, and because he spends his days sniffing around for stray treats at a vet hospital, he's managed to learn quite a bit. In fact, he's so smart that Dr. Bell figured it was time he earned his keep (and couch time) by passing along some of that knowledge.